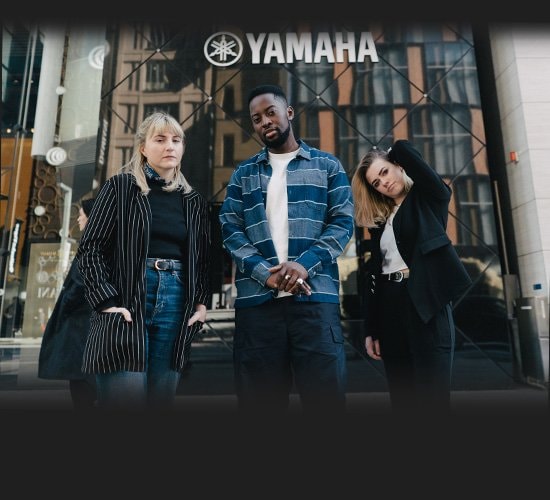 Yamahas Initiative für aufstrebende Talente, bei der neue Künstler und Musik vorgestellt werden.
DOKUMENTARSERIE
In der Dokumentarserie werden sechs aufstrebende Künstler aus ganz Europa auf ihrer Reise nach Barcelona begleitet, wo sie Teil einer exklusiven Songwriting-Erfahrung werden. Ihre Mission ist es, in einer Villa voller Musikinstrumente und mit eigenem Aufnahme-Studio zusammen Songs zu komponieren und sie live zu performen.
EPISODE 1: WRITING & COMPOSING
6 upcoming artists who haven't met before, arrive at the House of Talents in Barcelona. They form teams of two and start their mission to create songs in three days, leading up to a final performance of their work in an intimate concert. The first episode captures the beginning of this creative journey, from the artists getting to know each other, to start writing lyrics and composing melodies.
On the second day in the House of Talents, the artists get the chance to experiment with their tracks in the villa's home studio. Producer Jesus supports them with refining song layers and exploring new instruments. Yamaha artist Miki Santamaria pays a visit to support the new talents in their creative process.
EPISODE 3: FINAL PERFORMANCE
On the final day in the House of Talents the artists get ready to perform their individual songs that they have been working on the past days. In an intimate concert they showcase their results in front of each other.
PANELS
Die aufstrebenden Interpreten von WAY UP treffen sich an verschiedenen Orten auf der ganzen Welt, um über ihre Erfahrungen in der Musikbranche, die Bedeutung ihrer Songs und ihre persönliche Entwicklung zu sprechen.
UK artists JNR Williams and Wyldest from London meet with US artist Maggie Miles from Nashville. At the Yamaha Ginza Hall in Tokyo, the emerging artists share experiences in song-writing and how music empowers them to express their emotions and convey a message.
MUSIK
In der "WAY UP"-Playlist steht eine Auswahl an Originalmusik des jeweiligen in der "WAY UP"-Videoserie vorgestellten Künstlers zur Verfügung.
PODCASTS
WAY UP: HOUSE OF TALENTS ist der dazugehörige Podcast zu Yamahas dreiteiliger Dokumentarserie über aufstrebende Talente. Moderatorin Parisa Tarjomani spricht mit einigen Künstlern, die diesen Sommer in Spanien zu einer exklusiven Songwriting-Erfahrung eingeladen wurden. Bei dieser Erfahrung hat Yamaha aufstrebende Künstler aus ganz Europa in Barcelona in einer Villa voller Instrumente und mit eigenem Aufnahme-Studio zusammengebracht. Die perfekte Umgebung, um zusammen Musik zu produzieren. Die Künstler, die sich nie zuvor getroffen hatten, bildeten Zweierteams und innerhalb von drei Tagen schrieben sie Songtexte, komponierten Melodien, nahmen ihre Songs auf und performten sie am letzten Tag vor einem kleinen Publikum. JETZT ANHÖREN UND ABONNIEREN!