Biography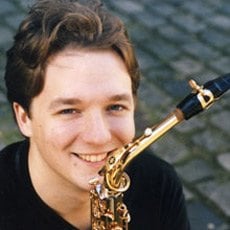 Alexandre has been a distinguished figure at many competitions: he won the Grand Prix Adolphe Sax of the 2nd International Competition of Dinant (Belgium, 1998), the 2nd prize of the 50th International Competition of the ARD in Munich, Germany in 2001 (that year the 1st prize was not awarded), and was the laureate of the Yamaha Music Foundation in Europe in 2000 and the Foundation "Natexis Banques Populaires" in 2001.
As a soloist Alexandre has given numerous concerts accompanied by well-known orchestras such as the Orchestra of the Bavarian Radio of Munich, the Orchestra of Collegium of Basel, and the Wallonie's Chamber Orchestra. He toured France, Germany, Spain, Switzerland, Belgium, Morocco, Canada, and Japan. In addition, Alexandre has worked with such famous French orchestras as the Opera National de Paris, the Ensemble InterContemporain, and the Orchestre National des Pays de la Loire.
Presently Alexandre Doisy is a Professor at the Municipal Conservatoire of the VI-th district of Paris.