Biography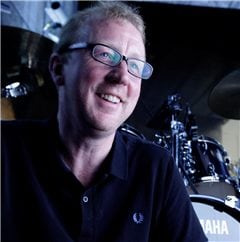 Born in Colchester, Essex, Rowntree was born to musical parents – Susan, a viola player, and John, a sound engineer at the British Broadcasting Corporation (BBC). He attended the Gilberd School, Colchester during the week, and the Landermere Music School, Thorpe-le-Soken, at weekends, where he studied percussion. He played percussion with his father in the Colchester Silver Band, a brass band.
Rowntree had played in bands with Blur guitarist Graham Coxon while the two were growing up in Colchester and knew Coxon's father who taught jazz classes at Landermere. In 1989 Coxon introduced Rowntree to Damon Albarn, who was forming a band around Goldsmiths, University of London. Rowntree was asked to join, and left his job and moved to London. With the addition of Alex James, and after many name changes, the band settled on and "Blur" and was quickly signed to EMI.
Blur's debut album Leisure (1991) incorporated the sounds of Madchester and shoegazing. Following a stylistic change influenced by English guitar pop groups such as The Kinks, The Beatles and XTC, Blur released Modern Life Is Rubbish (1993), Parklife (1994) and The Great Escape (1995). As a result, the band helped to popularise the Britpop genre and achieved mass popularity in the UK, aided by a chart battle with rival band Oasis in 1995 dubbed "The Battle of Britpop".
In recording their follow-up, Blur (1997), the band underwent another reinvention, showing influence from the lo-fi style of American indie rock groups. "Song 2", one of the album's singles, brought Blur mainstream success in the United States. Their next album, 13 (1999) saw the band members experimenting with electronic and gospel music, and featured more personal lyrics from Albarn. After a 2003 tour without Coxon, Blur did no studio work or touring as a band, as members engaged in other projects. In 2009 Blur reunited, with Coxon back in the fold, for a series of concerts and have continued to release several singles and retrospective releases.
In 2012, Blur received a Brit Award for Outstanding Contribution to Music and made special appearance s at the 2012 Brit Awards aswell as the Olympic games in London.
Dave plays a Yamaha Birch Custom Absolute in "Midnight Skyblue" finish + Yamaha hardware.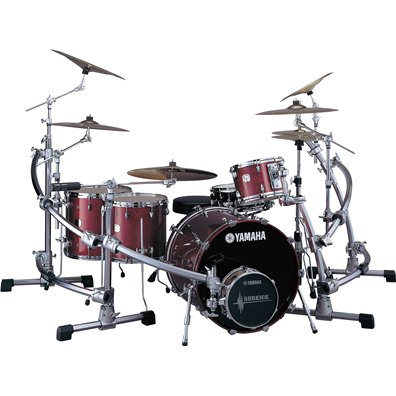 Die 'Absolute Serie' erlaubt es jedem Drummer, aus hochwertigsten YAMAHA-Komponenten sein ganz persönliches Traumset zu gestalten.

Andere Farben