Advantage of the ADECIA multi-beam tracking function
Advantage of the ADECIA multi-beam tracking function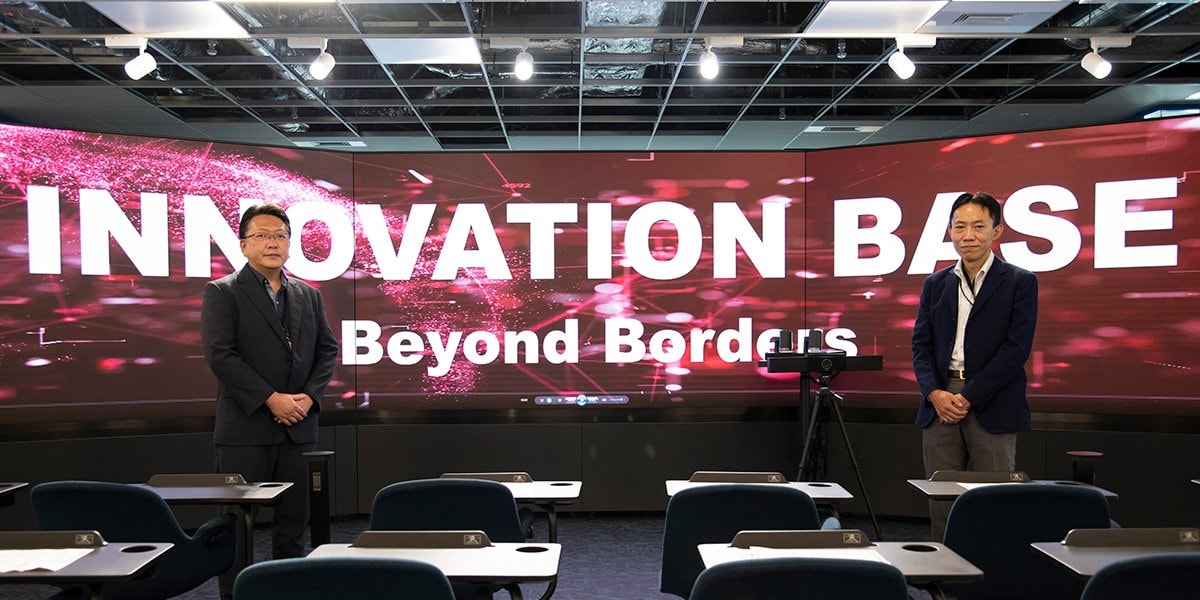 Mr. Mitsuhiro Washiyama, Acting Director of the EmpoweredOffice Promotion Division (left) / Mr. Yasuaki Tsunemi, Service Operation & Support Group Manager, DX Business Promotion Division (right)
NEC Networks & System Integration Corporation(NESIC) provides planning, consulting, design, integration, maintenance and operation of ICT systems with a core network, as well as monitoring and outsourcing services. Yamaha's one-stop sound solution for teleconferencing, called ADECIA, was introduced to NESIC at the Nihonbashi Innovation-Base. We spoke to Mr. Mitsuhiro Washiyama, Acting Director of the EmpoweredOffice Promotion Division, Business Design Operations Unit and Mr. Yasuaki Tsunemi, Service Operation & Support Group Manager, DX Business Promotion Division, Business Design Operations Unit to learn their reasons for selecting ADECIA and to hear how user-friendly the system is.
* "ADECIA" is a solution composed of a PoE-compatible L2 switch "SWR2311P-10G" and a ceiling speaker "VXC4W" built around a ceiling array microphone "RM-CG" and a remote conferencing processor "RM-CR," and acts as an acoustic system with all the devices required for remote conferencing.
Since 2007, we have focused on reforming how we work, and have implemented distributed work
NESIC has been making efforts in distributed and remote work from early on. Would you tell us about those efforts?
Mr. Washiyama: Today, distributed and hybrid work are coming under greater focus because of the coronavirus, but we have been working on work-style innovation since 2007. In 2015, we introduced a teleworking system, and expanded throughout the company a working style that is not bound by time nor place. From October 2019, we distributed our operations not only to Iidabashi headquarters, to Shin-Kawasaki Technical-Base and Nihonbashi Innovation-Base according to their functions. We setup Activity-Bases in seven locations in the metropolitan area, and have implemented work-style that enables both a work-life balance for our employees in an environment where it is easy to work and where is close to their home, and business continuity.
Are you separating your headquarters into three parts and spreading out your employees by further creating seven Activity-Bases?
Our employees are autonomous and can select the best place to work that suits their purpose. In terms of communication and management, we have linked with multi-cloud tools including Zoom, which we are the first reseller in Japan, Slack/Wrike and others. This has enabled us to move forward smoothly with distributed work.
Nihonbashi Innovation-Base is a place where we can deepen co-creation with our partners
What kind of location is Nihonbashi Innovation-Base where the remote conferencing system ADECIA was introduced?
Mr. Washiyama: Nihonbashi Innovation-Base is a place where cross-company task force members can create new business and deepen co-creation with our customers and partners both here at home and abroad. In addition to office space, this base offers digital conference rooms, the first Zoom showcase in Japan, and an open innovation space where ADECIA was introduced this time.
Advantage of the ADECIA speaker auto-tracking (multi-beam tracking) function
Would you describe your reasons for introducing ADECIA in the open innovation space?
Mr. Tsunemi: The open innovation space is a place for co-creation. It enables a lot of people to participate and to work together, both by being physically present, and by participating online. Before ADECIA was introduced, meeting participants had to hand over the wireless microphone speaker to the speaker every time during meetings or workshops. That often disrupted the discussion. Often times, the next topic would start while the microphone is being handed over. With ADECIA, the microphone is installed in the ceiling and it automatically detects the speaker and picks up the speakers voice. This allows the speaker to speak freely whenever they want. We introduced this because we valued that first.
Mr. Washiyama: Necessity of handing over the wireless microphone speakers caused the space to limit to only specific people who spoke. In order to make the space that encourages co-creation and that accelerates innovation, we needed to induce two-way interactions and allow free conversations. For that reason, we decided to introduce ADECIA.
Mr. Washiyama: In future hybrid methods of work, we believe that the communication environment should make it equal to participate by physically being present and or to participate remotely. To make that kind of environment possible, we have implemented a conference room that allows participants to share a whiteboard, and a mechanism that automatically focuses the camera on the speaker. Furthermore, when I want to focus the microphone on the speaker, I thought that ADECIA was the best solution to achieve this application because it automatically captures the speaker with its multi-beam tracking function.
Can you tell us you about the speakers? Why did you choose the VXC4W ceiling speaker this time?
Mr. Tsunemi: Because the open innovation space is a large space with almost no walls on that floor, I wanted to implement some form of zoning to prevent sound from spreading too far. The system uses a ceiling-mounted speaker and it is arranged so that the required volume is attained for the required area.
ADECIA does not require changing settings even if the layout is changed
What did you notice when you introduced ADECIA?
Mr. Tsunemi: In the open innovation space, chair positions may vary or the layout may be changed depending on the purpose of use, such as whether it is being used for a meeting or a seminar. However, this system is highly flexible and does not require any changes to the sound-collection settings. It is also an important element for system management that it does not require any effort to implement readjustments.
Mr. Washiyama: I found it easier because it picks up and uses a wider range of sounds than the wireless microphone speakers that we used. Also, from the standpoint of an integrator who proposes such a remote conferencing system to customers, ADECIA offers our customers a sense of security because it is made by Yamaha.
NESIC has been pioneering decentralized work from before the COVID-19 pandemic hit worldwide. However, will this style of working continue to become popularized in the future?
Mr. Washiyama: I think that combination of office working and remote working will become much popular throughout the world. I also think that it is an interesting challenge for the future to connect people who work in office with people who work remotely in comfortable environments. This goal will be supported by various digital technologies. We believe that ADECIA is a great tool to collect sound.
Thank you very much for taking the time to speak to us during your busy schedule today.
NEC Networks & System Integration Corporation
Advantage of the ADECIA multi-beam tracking function