Fernsteuerung und Überwachung ganzer Systeme von einem einzigen Bedienfeld aus
ProVisionaire Control und ProVisionaire Touch sind Softwareanwendungen, die eine einheitliche Fernsteuerung und Überwachung des gesamten Systems ermöglichen. ProVisionaire Control unterstützt Windows-Geräte, und ProVisionaire Touch unterstützt das iPad. Eine breite Palette von Geräten wird unterstützt, darunter MTX/MRX-Prozessoren, CL/QL/TF-Digitalmischer, Rio-I/O-Einheiten, XMV-Leistungsverstärker und NEXO NXAMPMK2 powered TD-Controller. Benutzerdefinierte Bedienfelder können durch Zuweisung der erforderlichen Parameter zu einer einzelnen Anzeigeseite erstellt werden. ProVisionaire Control umfasst den ProVisionaire Monitoring Service, mit dem sich der Status von Systemgeräten leicht überwachen lässt, während Warnmeldungen und andere Protokolldaten auf einem Computer aufgezeichnet werden können.
- Flexible und intuitive Systemkonfiguration
- Enthält eine Vielzahl von Audiokomponenten für das geplante Sounddesign
- Vielseitiger Aufbau der Logiksteuerung
Sendungsüberwachung
ProVisionaire Control/Touch
- Vollständige Systemkontrolle durch Zuweisung der erforderlichen Parameter von unterstützten Geräten
- Benutzerdefiniertes Control Panel je nach Bedarf erstellen
- Ziehen und Ablegen von Parametern aus ProVisionaire Design
- Unterstützung für Windows und iPad
- Flexible Lizenzverwaltung
- Aktivierung/Deaktivierung der Lizenz
ProVisionaire Cloud wird schrittweise eingeführt. Bitte wenden Sie sich an Ihre lokale Yamaha-Niederlassung, um zu erfahren, ob es in Ihrer Region verfügbar ist.
Multi-purpose venue
ProVisionaire Design offers comprehensive functionality for overall sound system and individual sub-system design in multi-purpose venues that might include theaters, dressings rooms, conference rooms, and more. When the sound system is ready, ProVisionaire Control can be used to create user-friendly control panels that include parameter controls, preset recall capability, and any other required functions. A sound system built around the Yamaha DME7 processor with a number of smaller MTX processors handling audio in individual conference rooms or other spaces, for example, can be designed and configured entirely using only the ProVisionaire Design application.
With signal processing inherited from the Yamaha RIVAGE PM series and an ample selection of available audio components, the DME7 is a great choice for theater sound systems. The DME7 can be configured with matrices that allow easy switchover to sound equipment brought in by outside sound or theater companies, without having to make changes to the house system.
ProVisionaire Design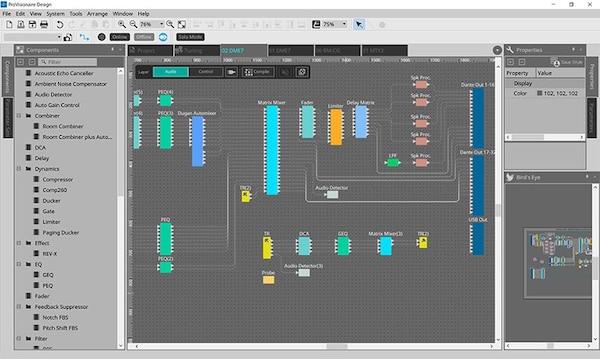 ProVisionaire Design
- Overall facility matrix and individual room systems all designed within one ProVisionaire Design project.
- Processor configuration for the theater, plus sound parameter control via high-performance audio components.
- Preset management utilizing the grouping capability.
- Logic control used to design control sequences
- Probe component can be used to check internal DSP routing while offline.
ProVisionaire Control/Touch
ProVisionaire Control/Touch
- Provides metering of signals from processors, I/O, and amplifiers for easy signal status confirmation.
- ProVisionaire Control panels can be distributed via the Kiosk app to prevent unwanted changes when multiple operators are present.
- In integrated touring systems, one-touch preset recall allows the house system to be easily recalled when the tour event is over.
ProVisionaire Cloud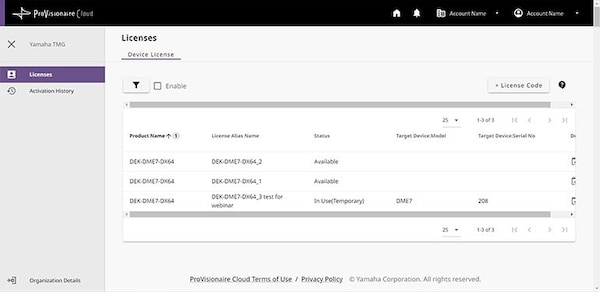 ProVisionaire Cloud
- DME7 license activation.
- Efficient license management, including the ability to deactivate a license that can then be activated and used on another DME7 unit in a temporary system.
Meeting Room
Comprehensive, transferrable system design for conference rooms, plus control interfaces that make operation easy for inexperienced users. ProVisionaire Design allows overall system design as well as individual management of MTX5-D processors in separate rooms, all connected via a Dante network.
Component parameters in fixed-architecture MTX processors allow flexible adjustment, and can be dragged and dropped into the ProVisionaire Control app and assigned to create control panels containing only controls needed by specific operators.
ProVisionaire Control panels can be distributed to iPad application ProVisionaire Touch Kiosk to prevent unwanted changes.
ProVisionaire Design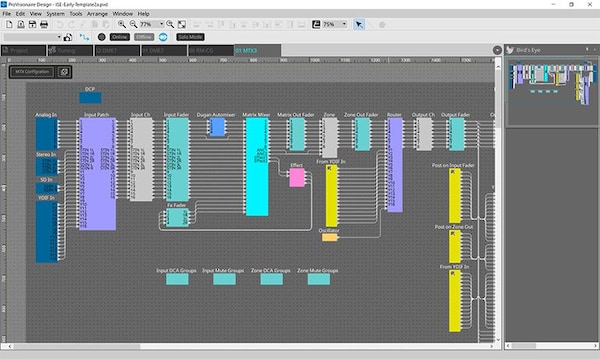 ProVisionaire Design
- Set up internal configurations for fixed-architecture MTX configuration processors.
- Use the Scheduler function to schedule an automatic reset to default settings on a specified date and time.
- External Event function can be used to control external devices such as projectors and motorized curtains.
- Dugan Auto Mixer contributes to well-mixed presentations.
ProVisionaire Control/Touch
ProVisionaire Control/Touch
- Lay out essential parameters in a single tablet display screen.
- Allow inexperienced users to operate sound systems without stress or errors.
- Microphone and speaker level control, one-button preset recall, and more from a tablet display.
Die angezeigten Farben und Ausführungen können von den tatsächlichen Produkten abweichen.