Biography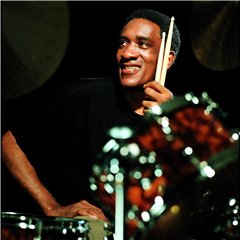 Al Foster, master drummer, has been a major innovator in the world of jazz for several decades. As a member of the Miles Davis band for thirteen years, Foster's contribution to Davis' music is articulated by Davis himself in his 1989 autobiography, Miles: The Autobiography, where Davis describes the first time he heard Foster play live in 1972 at the Cellar Club on 95th Street in Manhattan: 'He [Foster] knocked me out because he had such a groove and he would just lay it right in there. That was the kind of thing I was looking for. AI could set it up for everybody else to play off and just keep the groove going forever."
Other artists Foster has performed and recorded with include Joe Henderson, Freddie Hubbard, McCoy Tyner, Wayne Shorter, Bobby Hutcherson, John Scofield, Pat Metheny, Charlie Haden, Randy & Michael Brecker, Bill Evans (the pianoplayer), George Benson, Kenny Drew, Carmen McRae, Stan Getz, Toots Thielemans, Dexter Gordon and Chick Corea. Over the years, Foster has toured extensively with Herbie Hancock, Sonny Rollins, and Joe Henderson, becoming a major attraction in all three bands as well as an integral part of them.
Respected and admired for his keen sensitivity, Foster is known for his unique ability to listen to and playoff others in an almost telepathic way, responding to them with a style that is at once both charismatic and understated. Foster, is a great believer in the purity of the music, a genuine artist who continues to push the boundaries of creativity again and again, devoted to preserving and perpetuating the highest standards in jazz today. He is a magnificent all-round drummer, and his rhythmic chops are renowned in musical styles ranging from bebop to free form to jazz/rock. Recently he has recorded and toured with his own band.